Course guidance in the Lycée Français Victor Hugo is designed to support students in finding their career choice. They are guided throughout secondary school to build and finalize their educational and career guidance project.
Middle school students are introduced to the professional world through thematic approaches in several subjects. In 3e, they can present their internship and discuss their thoughts on career choices. This oral exam is part of the Parcours Avenir program (future career path) and is included in the Brevet (middle school diploma).
In high school, a significant amount of time is dedicated to deepen thoughts on the study and career path students want to follow. The latter are provided with valuable and individualized information to guide them year after year.
Under the principal's supervision, this project is developed in close collaboration with, students, parents, homeroom teachers, the assistant principal and M. Morvany who is in charge of the course guidance program.
Major events are organized to help students with their course and career choices.
Other Means to Stay Informed and Build a Career Path
AEFE-Agora Platform
Agora is a free platform created by the AEFE to support students with their career project. AEFE alumni who work in different parts of the world share their experiences with high school students and answer their questions. A variety of tools are available and students can access a significant amount of documents.
MainStudy
Events are organized to present higher education opportunities in Frankfurt and its surroundings.
Franco-German University
The network of Franco-German universities comprises French universities, German ones and other institutions outside of the EU. This collaboration with the Franco-German University allows students and researchers to pursue studies in one of the member countries.
Elles bougent!

"Elles bougent!" is a French association founded in 2005 whose objective is to draw young women's attention to scientific, technical and engineering pathways.
ALFF: LFVH Alumni Association
The Lycée Victor Hugo actively supports the Alumni association created in 2017.
If you wish to talk with LFVH alumni, contact M. Morvany or Mrs. Daniel-Risacher.
You can also reach ALFF on Facebook, ALFFrancfort or LinkedIn.
Where Are LFVH Graduates Going?
Country chosen by students, 1st year post-graduation (2018 cohort)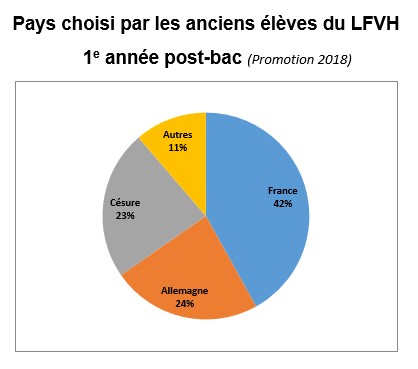 Higher education studies chosen by students, 1st year post-graduation (2009-2016 cohort)